Chemical Storage Buildings
These innovative structures are a free-standing, turnkey solution to the safe storage and handling of hazardous materials.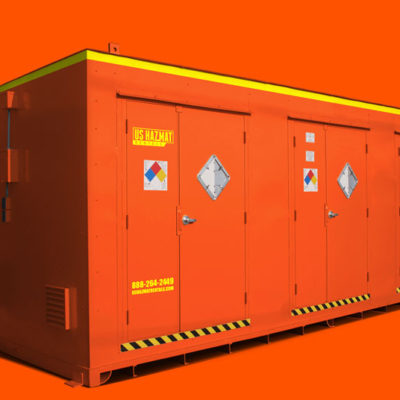 HAZARDOUS CHEMICAL STORAGE
US Hazmat Rentals offers non fire-rated or fire-rated construction according to your storage needs, chemical storage buildings protect your hazardous materials from harmful conditions and theft, while helping to achieve compliance with all applicable codes and requirements. Contact us today to learn more about our chemical storage building rentals.
Select from our compliant Chemical Storage Facilities.
Storage Solutions and Storage Applications
We have units for fungicide, pesticide, and fertilizer storage, along with any other hazardous material, whether it be flammable or nonflammable.
FLAMMABLE STORAGE SOLUTIONS: 
Our fire-rated storage buildings are available in either 2 hour fire-rated flammable storage buildings or 4 hour fire-rated flammable storage buildings, depending on the materials you wish to store, the chemical quantity and the designated proximity to existing facilities and industrial operations.
Fire-Rated 2 Hour Fire-Rated 4 Hour
CHEMICAL STORAGE SOLUTIONS: 
Our non-fire-rated chemical storage buildings are designed and engineered to meet all federal and local hazardous material storage regulations. With built-in sumps, these units provide secondary containment to help ensure your hazardous materials are protected from environmental impacts. These can include climate control and extreme weather conditions such as high winds when installed to our guidelines and specifications. Your storage needs and compliance depend on the materials you wish to store, the quantity of materials, and the distance to other facilities.
CHEMICAL STORAGE BUILDING SIZES: 
Each of our US Hazmat Chemical Storage Building models are available in four different sizes, with chemical drum or barrel storage capacities from 1 to 57 barrels. Our flexibility can ease the burden of storing chemicals and flammable materials. Each of our industry-leading solutions are specially engineered for chemical storage compliance meeting EPA, NFPA, OHSA and local containment regulations.
Hazardous Material and Chemical Storage Containment
Each of our chemical storage buildings is engineered for the highest safety protection. They are easy to transport using a forklift, and are built using only the finest 12-gauge steel for the most powerful protection against chemical storage hazards. Each of our buildings has a tested leak-proof sump to prevent chemical spills from seeping into the environment.
Hazmat Rental Availability
At US Hazmat Rentals, we have chemical storage buildings readily available for rent. All you have to do is contact us and tell us your chemical storage needs, and we'll supply you with a fully compliant chemical storage building. We're ready to help you store your hazardous materials properly, and with the highest safety and security. Rent a building known for its unmatched durability and safeguard your business, your employees and the environment!
REQUEST A QUOTE
Complete our quick quote for a chemical storage building from US Hazmat Rentals, to request complete product specifications, or speak with a chemical storage specialist ready to assist you with your storage needs. Be sure to ask about long-term rental discounts. Our factory representative will be happy to answer any questions and provide hassle a free quote for your next project.
Free Hazmat Storage Planner
Download a free Chemical storage planner and building specification guide to hazardous material storage buildings. The US Hazmat Rentals planner will help make you aware of our storage options for proper chemical storage compliance. Each custom engineered building or storage locker is designed and engineered to meet or exceed OSHA, EPA, and NFPA regulations and are ready to deliver. 
Contact US Hazmat Rentals at 888-264-2449 for complete details, pricing, and hazardous storage building availability.