OSHA and NFPA: Navigating Regulation for Flammable Paint Storage Cabinets
As a business owner, there is one thing you never want to see: an OSHA citation. Even worse, someone getting injured as a result of not following the OSHA regulations for paint storage cabinets.
The OSHA paint codes are found within Standard 1926.106 and 1926.152. Most industrial paints classify as Class II Combustible Liquids, but other industrial paint shop chemicals like acetone belong in more tightly controlled categories.  Due to the differences, it is imperative for your business to know how the paint storage cabinets you use are classified, to avoid run ins with the OSHA code. Beyond this, the National Fire Prevention Association also has industry guidelines used to keep equipment used for hazardous material handling up to a high standard.
All of this regulation can seem costly and complicated, especially with everything else that goes into running a commercial business. But what is the alternative?
$262,000 penalty for Paint Storage Violations
"Flammable vapors ignited in the production facility, resulting in an explosion and fire that caused extensive damage to the building and the interconnected aerosol-propellant charging rooms. Multiple violations of OSHA's process safety management standards for facilities that use highly hazardous chemicals were found at the facility." – OSHA  News Release, Sept. 5, 2013
The unfortunate case study of Fox Valley Systems shows what can happen when regulations are ignored. On March 6th, 2013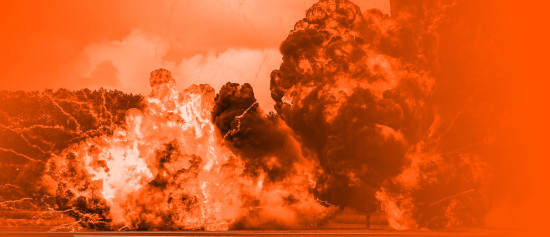 , three employees at the Cary, Illinois aerosol paint factory were seriously injured in a chemical deflagration. As a result, the company received 26 OSHA violations, totaling $262,000. Many of these serious and willful violations were general bad business practices, such as obstructing doorways. Yet, a good deal of them were direct violation of the requirements for paint storage cabinets.
Here are the Industrial Paint Shop regulations that were broken (OSHA Standard 1926.106 and 1926.152) and what it  consequently cost them:
Draining and Diked Areas around Flammable Chemical Storage
Standard #1910.106(b)(2)(vii)(a)
First of all, the company failed to provide adequate drainage for storage tanks containing Toluene, Acetone, and Lactol.
Non-Compliance Penalty Cost: $2,000
–
No Lock on fireproof storage cabinets
Standard # 1910.106(d)(3)(ii)(a)
Because the lock on a fireproof cabinet for paint was broken, the company received a violation that could have easily been prevented.
Non-Compliance Penalty Cost:  $2,800
–
Improper Storage Locations/Exceeding Capacity
Standard # 1910.106(d)(4)(i)
A $5,600 charge was levied, due to the room failing to meet the requirements for industrial chemical handling.  In addition, the space did not meet any of the drainage, spill containment, or electrical safety standards set forth by OSHA Standards. They also exceeded the maximum storage space for flammable and combustible liquids, with a 10,000 square foot room. The maximum square footage for fire safe industrial paint storage: 500- hence the steep penalty.
Non-Compliance Penalty Cost:  $5,600
–
Using General Purpose Electric Equipment
Standard # 1910.106(d)(4)(iii)
In addition to the above, the electrical wiring in the indoor storage was not approved for use in hazardous locations.
Non-Compliance Penalty Cost:  $2,800
–
With these violations, the company in question was forced to pay in violations more money than it would have taken to maintain compliance with the OSHA requirements for Industrial Paint Storage. Worse than that, this willful non-compliance led to 3 people being seriously injured.
You can find the full text of the OSHA regulations for flammable and combustible liquids below and the full write up on the OSHA violations at Fox Valley Systems here.  While it may seem onerous and complicated to follow all of these rules, the cost of the penalties and potential injury to your employees and property is a greater burden.
All of the storage solutions carried by U.S. Hazmat Rentals are designed to meet or exceed government safety standards.
If you have questions about your industrial paint storage solutions, give our team a call at (866) 284-0776 today!
Fire Safe Storage Uses
Our products are engineered to fit your specifications, since all of our flammable liquid storage buildings are made and manufactured in the USA. As a result, there are hundreds of acceptable uses for our flammable chemical storage buildings:
Store Class 1A Flammable Chemicals:
Acetaldehyde storage
Collodion storage
Ethylamine storage
Ethylene oxide storage
Ethyl chloride storage
Ethyl ether storage
Diethyl ethyl ether storage
Furfuran storage
Isopropyl chloride storage
Methyl Ethyl ether storage
Pentane storage
Pentene storage
Petroleum ether storage
Propylene oxide storage
Mix/Store Class 1B and Class 1C Flammable Chemicals:
Acetone storage
Acrolein storage
Acrylonitrile storage
Acetonitrile storage
Benzene storage
Butyl alcohol storage
Dichloroethane storage
Ethyl acetate storage
Ethyl alcohol storage
Ethylene glycol dimethylether storage
Gasoline storage
Hexane storage
Isopropyl alcohol storage
Methyl alcohol storage
Methyl ethyl ketone storage
Methylcyclohexane storage
Tetrahydrofuran storage
Toluene storage
Amyl acetate storage
Amyl alcohol storage
Dibutyl ether storage
Chlorohexane storage
Naptha storage
Styrene storage
Turpentine storage
Xylene storage
In addition, our industrial storage solutions include the appropriate explosion-proof refrigeration, heating, and EPA compliant spill containment. We also work across a broad range of industries and are ready to help you find the best fitting, cost-appropriate storage system for your industrial business. Beyond industrial paint storage, we also carry solutions to rent fire-rated chemical storage buildings, storm shelters, explosive material storage, and accessories for chemical storage lockers.
Thank you for reading! You probably still have questions about your particular situation. We'd love to help. Give our expert team a call today, so you can find the storage solution that fits your needs.
More reading on NFPA and OSHA Requirements for Industrial Paint Storage Cabinets: 
For more information, allow our expert team to help design your industrial paint storage cabinet solution for mixing and storing paints and other chemicals.