News of climate change is the dark cloud that we just can't escape. And that's for good reason. Erratic changes to the earth's delicate weather patterns are having an impact humanity can no longer ignore. From the raging Canadian wildfires to the recent discovery of a possibly collapsing Gulf Stream, this harbinger of impending doom has officially reached seismic proportions. No one on this planet has been left unscathed by the effects of a warming planet. We probably don't have to tell you that July was the warmest month in recorded history. Needless to say, it's not a cool time to be on the wrong side of history. Heavy industry and manufacturing must take this crisis head-on without delay. Like your economics professor always said, change starts at the microlevel and the same is true for conservation. Climate change chemical storage from U.S. Hazmat Rentals can lessen your company's carbon footprint while protecting expensive inventories.
Why is Climate Change Chemical Storage So Important?
Short of a sudden freeze over from an impromptu second ice age, 2023 will likely become the hottest in history. While we certainly don't mean to keep beating the drum of inevitable chaos, we would be remiss not to broach the sensitive topic of climate change's impact on chemical storage. Rising sea levels will shock the gulf stream in the coming decades, producing noticeably cooler temperatures in Europe and the northern Atlantic. Rapid changes to sustained climate patterns will inevitably impact ecosystems. Everything in nature works in harmony and unison. What affects one supply chain will almost certainly hinder the next. Erratic weather patterns and catastrophic natural disasters could wipe out sources for raw materials used in everyday industrial chemicals. With rapidly depleting precursor chemicals potentially wreaking havoc on the world market, you will want to safeguard and protect your current inventories.
Allow U.S. Hazmat Rentals to Guide You Through Troubled Waters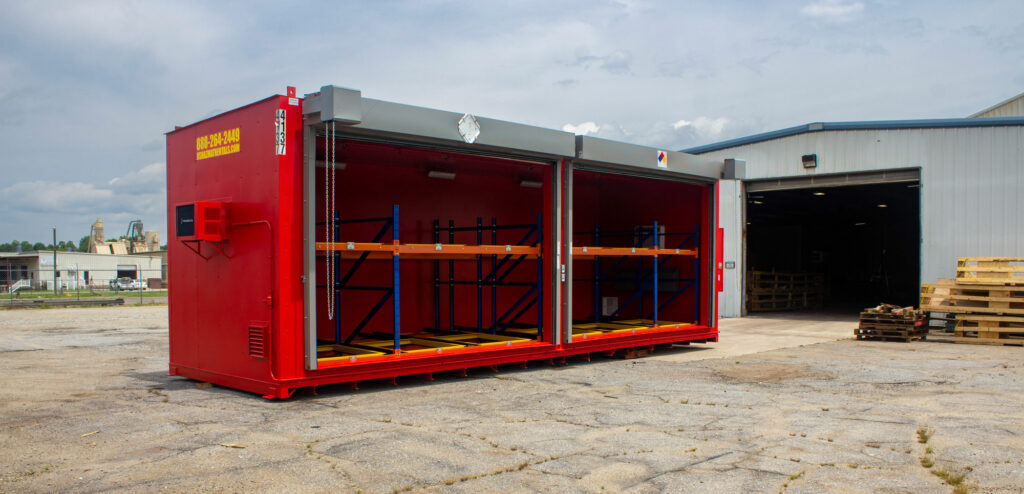 Even if humanity virtually eliminated carbon emissions today, we will be stuck with the lingering side-effects for decades to come as the planet's readjusts to its natural equilibrium. If the pandemic taught us anything, it's that our supply chains remain in perilous straits; even the slightest hiccup can snarl deliveries for weeks. Imagine what unpredictable weather patterns could do to overstressed markets? Unlike common everyday household products, industrial chemicals can be difficult to procure even during stable market conditions. Any emerging competitive synthetic chemicals will probably come with a hefty price tag, so even if your company can afford them, you will want to keep supplies under lock and key. There's also the environment to consider. Careless pollution and disregard for our planet led to the current dilemma of climate change. Do you really want your company to be complicit in continued damage? Our steel-welded climate change chemical storage lockers can protect sensitive chemicals from the natural environment, so you can focus on what matters most.