University campuses and educational laboratories lead the way in research. Major corporations and industries rely on these scientific incubators to keep them abreast of recent breakthroughs and innovations. Universities also teach and train the future leaders of tomorrow while guiding public policy, including the effects on climate change. What makes university research labs so unique is their independence from undue influence and pressure, which means you can regularly trust their findings without a cynical mindset. But because college campuses and research facilities deal with a litany of projects and substances, the propensity for danger from chemical incidents remains higher. Many chemicals used in laboratory processes tend to trend to the volatile and dangerous side. To offset potential threats, invest in an external chemical storage building from U.S. Hazmat Rentals.
Compliant Turnkey Storage That Doesn't Interrupt Workflow Processes
Segregation is key when it comes to managing dangerous chemicals. Storing hazardous materials in exposed classrooms and labs can lead to student injuries, as well as civil fines and penalties. Due to budget constraints that prevent colleges from breaking ground on brand new labs and classrooms, college campuses remain particularly vulnerable to chemical incidents. Remember, university labs can be in close proximity to cafeterias, dormitories and other buildings ill prepared for handling chemical spills and leaks. External chemical storage buildings provide onsite protection and storage of dangerous chemicals without eating up available floor space. Our fire-rated chemical storage buildings costs a fraction of what it would cost to build a new lab or separate concrete and metal storage facility.
Our buildings provide for adequate storage compliance outside of occupied structures so that hazardous material spills or fire incidents are isolated to containment structures. If you manage excess inventory or larger volumes of chemicals, contact us today to discuss exterior compliant storage.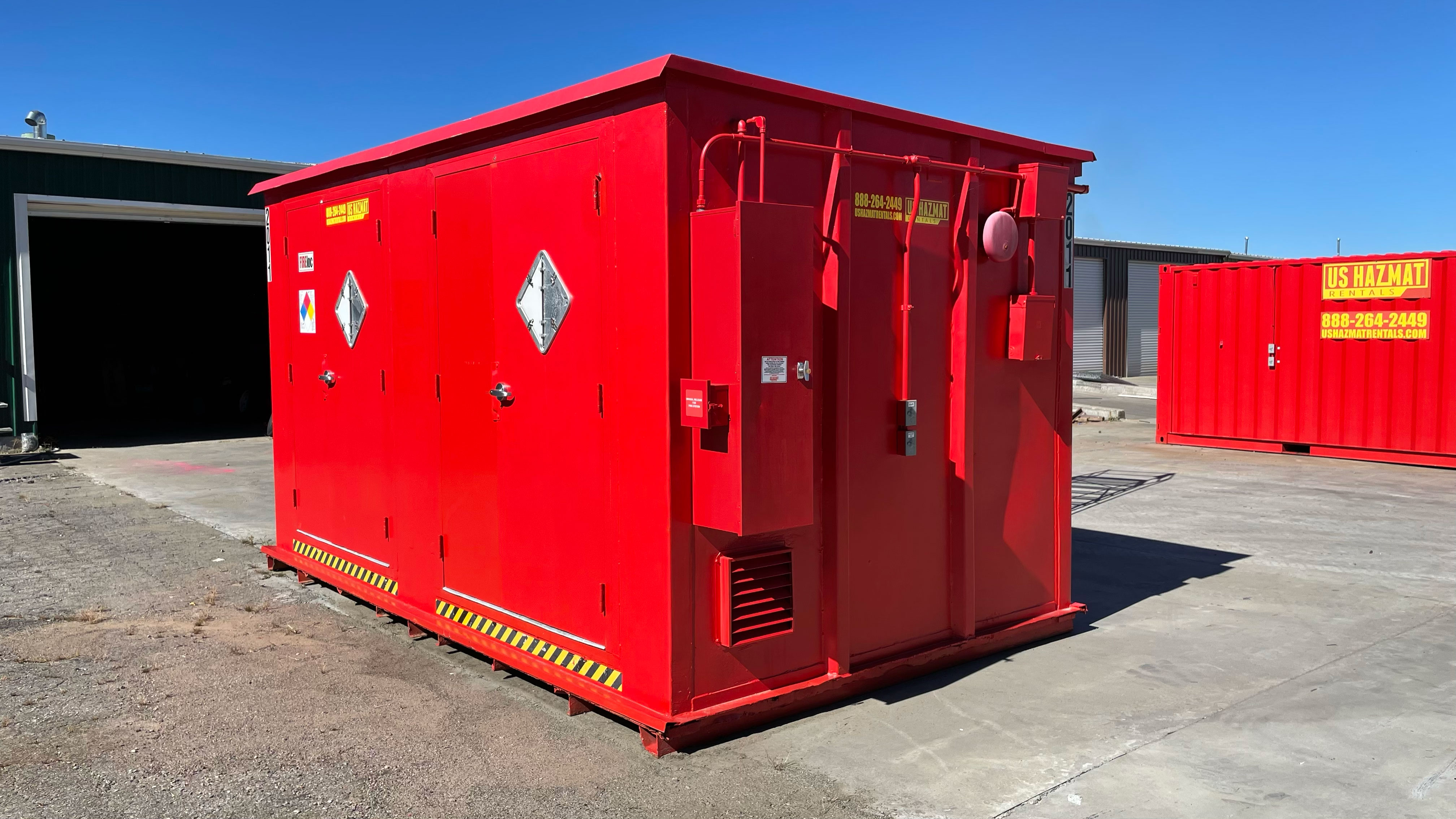 Don't Build From the Ground Up When You can Rent External Chemical Storage Buildings
Why buy when you can rent an external chemical storage building at the fraction of the price? With state budgets already operating with a shoestring, you don't have any margin with overhead. Colleges scrimp and save, as well as hound alumni for donations to launch new building projects and expansion. Why waste available funds on new buildings that will just be used for storing dangerous chemicals and nothing else? Universities are versatile by definition. They practically invented the terms "multi-use" and "multifaceted." With space already at a premium, you can't waste thousands of square feet. That's why a external chemical storage building is practical solution to a very pressing concern. As the flagship institution in your community, you can't risk bad press that comes from dangerous chemical spills and exposure. We also understand that college campuses and research labs don't always need a permanent solution. College semesters are short by nature. Don't invest in a permanent solution for a building that might only be used six months out of the year. We can deliver a compliant external chemical storage building that doesn't interrupt your daily workflow operations and class schedules.